OUR BUSES
For those nights where you and a couple of your closest friends want to have a great time without driving, or spending a ton of money on transportation...we've got an option for you! Take a look at this small bus option! Our 10 Passenger Bus is among the most popular in our fleet. It's perfect for those intimate gatherings and get togethers that we know and love. Hop aboard and have a fantastic time with all of your friends.
Click here for more info on our 10 Passenger Van!
  ❁ Premium seating for up to 10 passengers
  ❁ Bar top areas for you to enjoy ice cold beverages
  ❁ Color changing lighting for mood lighting
  ❁ Privacy tinted windows to keep the fun inside
  ❁ Flat screen televisions and DVD/Blu-Ray capability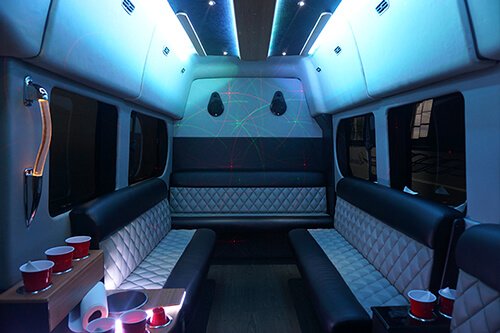 ---
When you're out and about with the people you care about most, you want a safe mode of transportation, and that's where this party bus comes in. Our 12 passenger Range Rover limo is a welcome addition to our already varied fleet. For 12 of your friends, this could be a mobile nightclub to enjoy for an entire night, whether that night is a bar hop or a corporate event! There's no limit to the potential uses that this party bus can apply to.
Click here for more info on our Range Rover!
  ❁ Couch style leather seating for up to 12 passengers
  ❁ Granite counter tops for convenient beverage consumption
  ❁ Floor and ceiling that light up
  ❁ Ambient atmosphere from LED lighting
  ❁ TV monitors for full time entertainment on your trip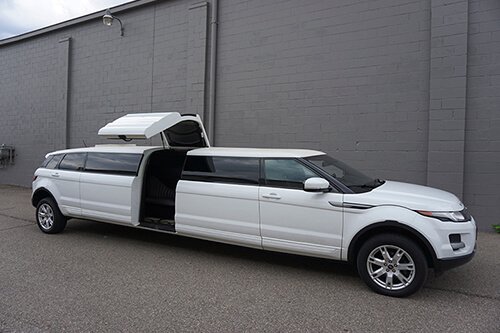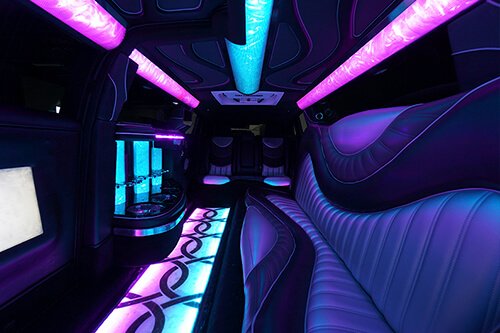 ---
Turn a regular night out on the town into something more exciting and memorable with this extraordinary transportation option in Flint. Our Town Car is gorgeous, inviting, and best of all...affordable! Our vehicles are the prime mode of transportation for fun events like local corporate events and birthday parties, so why not ensure your next get together is one to remember with this party bus?
Click here for more info on our Town Car!
  ❁ Hardwood flooring and leather seats
  ❁ iPod/MP3 compatibility for personalized play lists
  ❁ Dark windows for privacy throughout your trip
  ❁ Spacious beverage bar with ample cooler space
  ❁ Rainbow thematic lighting throughout surfaces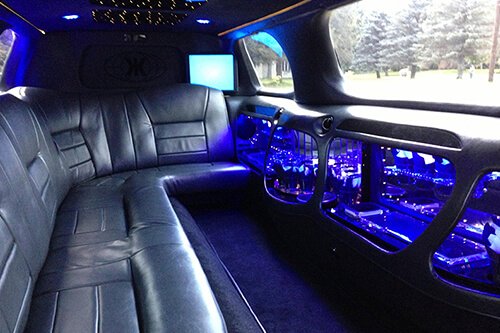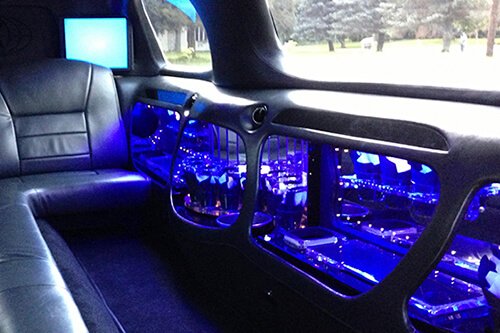 ---
When you're out on the town in Flint, you want to be as comfortable as possible while partying with all of your closest friends and family. The Escalade for up to 20 guests is where all of the fun happens! We can guarantee that you'll be impressed by the contemporary interior of this ambient party bus rental. Our customers love the convenience of not having to deal with the awful traffic, or finding a designated driver!
Click here for more info on our Escalade!
  ❁ There are comfortable leather benches for you and up to 19 of your friends
  ❁ Polished hardwood flooring makes dancing easy
  ❁ Professional stereo systems with subwoofers
  ❁ Dark tinted windows for a private ride through town
  ❁ Nightclub styled lighting for your enjoyment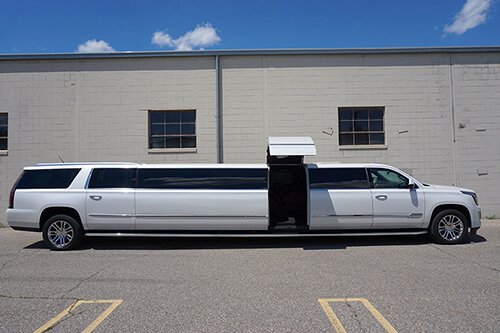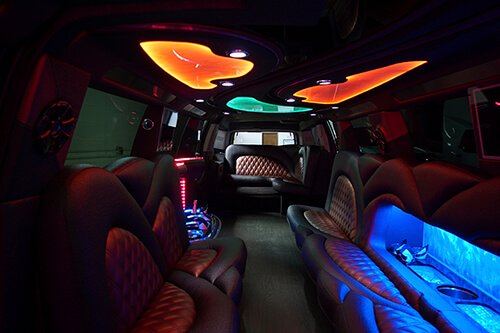 ---
For a smaller group in Flint, we're certain that this option is one that's truly fitting. That's right, we have two impressive 28 Passenger Party Buses in Flint for you to choose from. We know it might be hard to choose which one you like better! When it comes to options, we believe they're ultimately important, and this wonderful party bus is sure to be a likely potential option for your night out on the town.
Click here for more info
  ❁ There's high quality leather seating for up to 28 passengers
  ❁ The dancing poles make for an entertaining night regardless!
  ❁ We know you're going to enjoy the colorful lighting
  ❁ Granite counter tops are perfect for preparing drinks
  ❁ The polished hardwood floors are made for dancing on all night long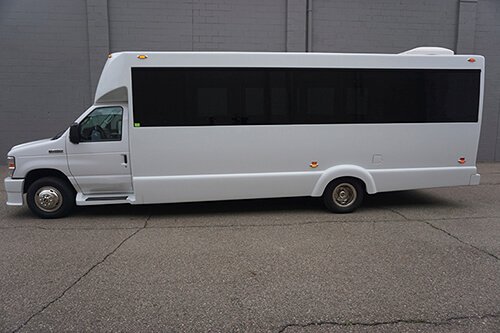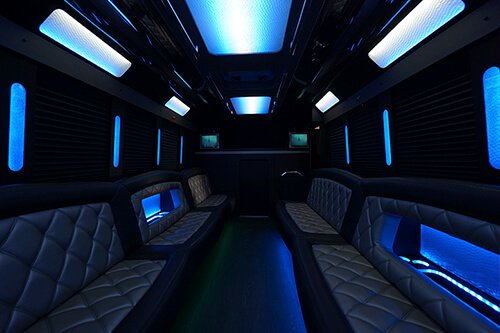 ---
For those nights where you just want to let loose and have fun at the local hot spots, you've certainly found a likely candidate for transportation! Our 30 Passenger Party Bus has what you need to enter the world of partying in Flint successfully. There are many options for transportation in the area, but none are as shiny and great as this impressive party bus. Give us a call when you need a prime ride through town!
Click here for more info
  ❁ Comfortable leather seating throughout
  ❁ Polished chrome dancing poles for entertainment
  ❁ Beverage serving areas for drinking convenience
  ❁ Flat screen televisions with DVD player included
  ❁Tinted windows throughout for privacy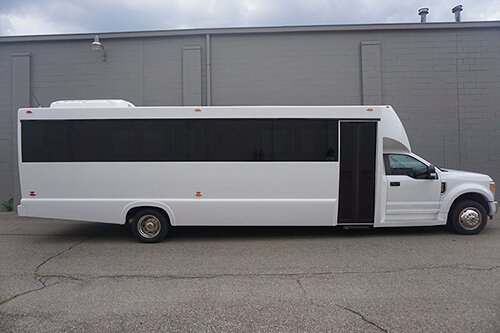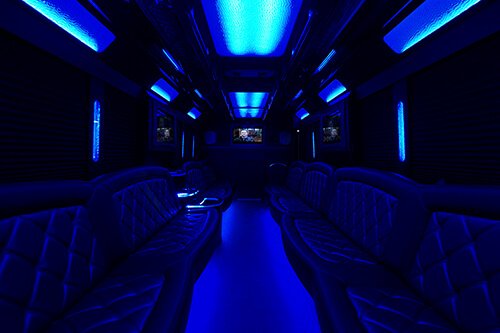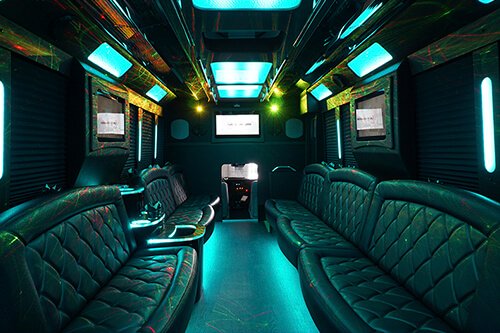 ---
There are tons of options for transportation, but this party bus takes the cake. This vehicle goes above and beyond all expectations. This spacious bus is a crowd pleasing favorite, and one look at the interior will explain why. Imagine rolling through the streets of Flint, and beyond, in this monster! It's basically a night club on wheels, and that's sure to make all of your friends happy.
Click here for more info
  ❁ All of the luxuries of professional transportation are in this bus
  ❁ Conveniently spacious for dancing and partying
  ❁ Never deal with things like traffic and construction
  ❁ Fantastic party features like dance poles and neon lighting
  ❁ Polished exterior, and interior hardwood flooring for sparkling appearance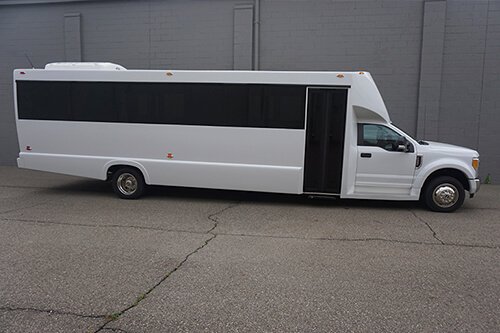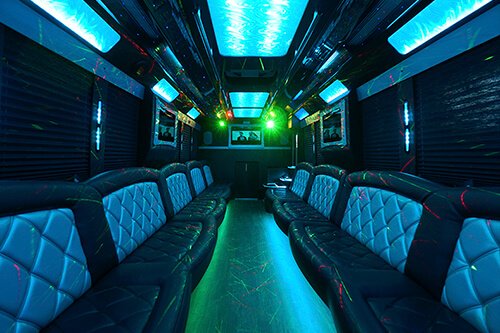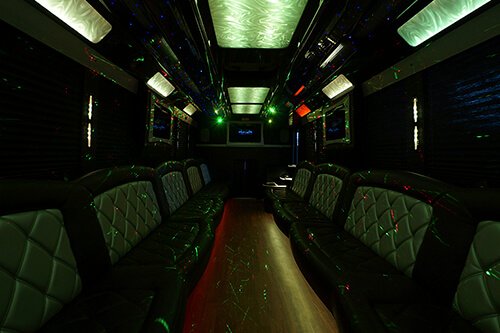 ---
For parties with monumental potential, there's a specific vehicle we know you'll love more than the rest! With our 35 passenger limo bus, there's no need for any other form of transportation for partying. This is as good as it gets in terms of spaciousness and potential partying! With two dancing poles, ambient lighting and a speaker system that rivals that of the local club, there's tons of reasons to rent this.
Click here for more info
  ❁ Large interior capable of holding 35 passengers
  ❁ Interior design with colored lighting perfect for partying
  ❁ Areas with granite counter tops for drink preparation
  ❁ Comfortable couch style seating
  ❁ Lovely sound systems with subwoofer speakers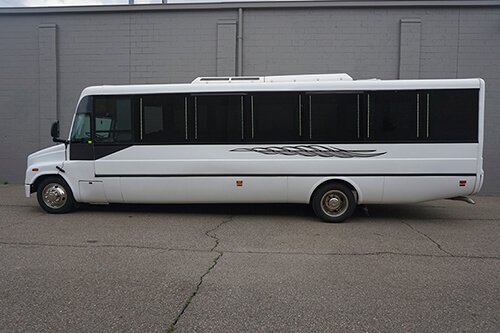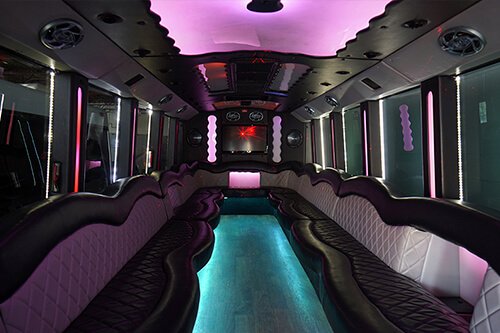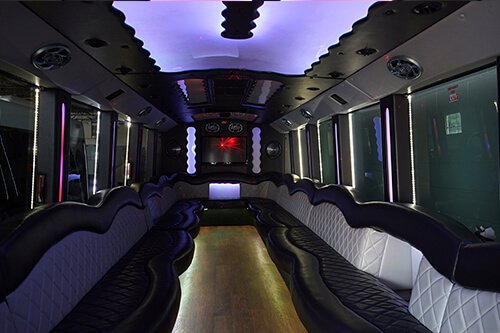 ---